If you were to set out on a search for electronic design companies right now, you will find yourself spoilt for options. How do you go about selecting an electronic design company that will be the perfect fit for your business? While there are many hardware design services out there, you have to find the one that is best match to your business goals and meets perfectly your technical requirements.
Let's explore and evaluate some of the most important factors that need to be taken into account when making such a decision:
Invest Time in the Search Process
Your goal is, of course, to reduce the electronic design time, cost and risk by finding an electronic design company that has equal or similar experience to your project specifications. This is the foremost hurdles that you will likely face early in your search process. Essentially, there is not always a 100% match between your requirements and the electronic services company offering. And often, it can be difficult for you to figure that out if things are too technical and you are not. Our advice is to spend more time in the search process to find the right electronic design services company, because this will pay off during and after you finish the project. Contact as many design services companies that you can, perform interviews and talk to their customers.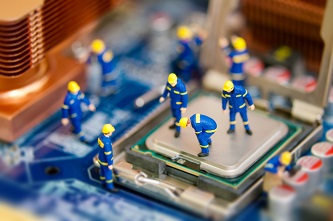 Focus on Knowledge and Skills
The primary reason for seeking an electronic design company is because you do not have the technical capabilities in-house that are needed for ideal execution of a project. When you are browsing through electronic design companies websites and profile pages, you will want to take a closer and thorough look at their proposed skillset and technical competence before you look at any other thing.
The type of skills and technical capabilities you will require from your electronic design company will largely depend on the kind of project you are aiming to develop and manufacture. Therefore, we recommend compiling a list of objectives and specifications of your project. You will have to specify product specifications together with a description of what hardware and applications they should have expertise over. You will also want to ensure that the electronic design company has mastery over the technologies they will be required to use.
They should have adequate knowledge and experience within development techniques and technologies, tools, process, quality, prototype lab and partners.  Other factors include knowledge regarding HDL (Hardware Design Language), relevant algorithms, software programming languages such as C or Python.
You will need to set criteria that the electronic design company needs to match before they qualify to be considered by you to develop your electronic product.
Tip: a great way to determine whether or not a developer is the right fit for you is asking them to explain their system ideas and structure to you using explanatory block diagrams and graphics as if you have no experience in the area. If they are able to express their ideas with clarity and a clear sense of direction, you can be confident in their existing capabilities and potential execution. The ability to communicate ideas in a clear and simplistic manner is also important because your work environment will largely be dependent upon the information and knowledge transfer between your in-house developers, and the outsourced electronic design services company.
Experience and Execution
Another very important aspect that you need to pay heed to is the experience that the targeted electronic design team has harbored over the years and if it is relevant to your project or goal. One of the great things about outsourcing hardware development is that you can leverage and make use of the experience of experts who have worked across a plethora of fields, services, and products to optimize the development of your own electronic design system.
Usually companies that offer outsourced electronic design system services employ developers that have worked with a number of different clients and businesses, a process that allows them to determine the best approach for future projects as they have a much wider perspective as compared to you or your in-house employees who have only ever worked for a singular cause.
Project Management
Along with having adequate knowledge and skills regarding the project and the resources and tools needed to take it to execution, the development team should also have an idea regarding project management- the ability to handle the larger perspective along with the smaller tasks and objectives.
This will allow them to identify core problems and issues early in the hardware development and system architecture process and dealing with issues as they arise is a much more systematic and beneficial way of error handling as opposed to running tests at the end of the cycle when the issues become much more pronounced and debilitating. Prior analysis also enables the developer to determine project costs and resource requirements beforehand and thus, prevents you from having to spend too much time or money outside of what you initially planned and allocated in your budget.
To Sum it Up
All in all, finding the ideal electronic design company can be a rather challenging task. But with the right preparation, you can make the process much easier for yourself and end up with a collaboration that yields great and effective results as opposed to being a waste of the already limited time and other resources.