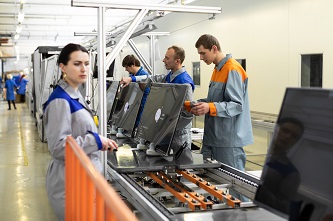 What is Contract Manufacturing?
A contract manufacturer (referred to as a CM) is a manufacturer that supplies a firm with components and/or products (in which case it is a turnkey supplier, and this becomes a form of outsourcing), or with packaging operations (in which case it is called a copacker or a contract packager). This allows brand name companies to focus on product innovation, design and sales, while the manufacturing takes place in independent factories (the turnkey suppliers and copackers).
Most turnkey suppliers specialize in manufacturing physical products, but some are also able to handle a significant part of the design and customization process if needed. Some turnkey suppliers specialize in one base component (for example memory chips, processor chips) or a base process (e.g. plastic molding, plastic injection).
In a contract manufacturing business model, the hiring firm approaches the contract manufacturer with a design or formula. The contract manufacturer will quote the parts based on processes, labor, tooling, and material costs. Usually, the hiring firm will request quotes from multiple CMs. After the bidding process is complete, the company will select a source, and then, for the agreed-upon price, the CM acts as that firm's factory, producing and shipping units of the design on their behalf.
Many industries use this process, especially the aerospace, defense, computer, semiconductor, energy, medical, food manufacturing, personal care, packaging, and automotive fields.
Some types of contract manufacturing include CNC machining, complex assembly, aluminum die casting, grinding, broaching, gears, and forging. In the semiconductor industry, this practice is called the foundry model. Contract manufacturing is especially prevalent in the electronics industry.
Figure 1 – Contract Manufacturing steps
Pros and Cons of Contract Manufacturing
Figure 2 – Pros and Cons of contract manufacturing
Contract manufacturing is a crucial tool for small business and entrepreneurial start-ups looking to make their product the next big emerging technology. Described below are a few examples of the advantages and then disadvantages that contract manufacturing has.
Advantages:
You can save on costs significantly. By outsourcing your product manufacture, you will not have to dedicate valuable in-house resources to manufacturing. Working with a CM eliminates the need to juggle between vendors and helps you avoid running into unexpected costs. You'll overall reduce labor costs significantly and, by knowing exactly what your manufacturing process will cost you ahead of time, you can practice better budget control throughout the entire product life cycle.
Contract manufacturers also provide businesses with technical insight found nowhere else. Since CMs build products for a varied selection of companies, they have valuable in-depth knowledge into manufacturing techniques for various niches and technical insight necessary for spotting the potential risks and flaws within the design early on. This can prevent fatal mistakes within a product that could cost you significant funds in the long run.
Since a contract manufacturer will completely take on your manufacturing process, you'll create more opportunities within your company, freeing up time for your employees to create more innovative prototypes and design additional revolutionary products.
As a small business or start-up, it's difficult to scale your product with limited resources at hand. Since contract manufacturers have significantly more resources, they're more than able to scale your product. On the other hand, if you're experiencing a peak in demand or seasonal decrease in demand, contract manufacturers can quickly scale production needs to whatever is necessary. With these scalable measures, you'll be able to take control of demand fluctuation and better manage your company's resources.
A contract between the manufacturer and the company it's producing for may last several years. The manufacturer will know that it will have a steady flow of business until then, and this benefits both parties.
Disadvantages:
As with any business deal, without proper research, you could end up outsourcing to the wrong company. To find the perfect CM, you'll need your team to conduct thorough research into a partner that fits your capacity, capability and cost requirements. A low-quality contract manufacturer can easily disguise themselves as a high-quality, reliable partner so be sure to do comprehensive research. Unreliable providers can delay processes and deliver flawed end products.
Typical contract manufacturers require pristine documentation with detailed assembly instructions. They will build exactly to the prints you provide and will not take any responsibility for issues with your design or documentation. If your documentation is incomplete or inaccurate or if you need improvements to your product, you should consider outsourcing to manufacturers who have design capabilities or delay outsourcing until your design is fully mature.
With a CM, you will have to give up control of the manufacturing process. When relinquishing this control, you risk losing critical knowledge and skills around production techniques. Without constant supervision, your company won't be able to pinpoint any problems within production.
When using a contract manufacturing service, your company may run into a communication gap that can cause a variety of problems for the production process such as:

Unrealistic timelines
No set transition plan
Improper internal communication amongst your internal team
Misunderstandings of capacity qualifications

Separating product design from manufacturing removes the valuable direct feedback between them and this can lead to serious errors. For cases where the product is not your core value or competency, it is better to outsource both the design and manufacturing to suppliers who have expertise in both these areas.
You risk your intellectual property being leaked or stolen, because when you outsource your manufacturing, you give dozens of workers access to your intellectual property. You also risk the possibility of your intellectual property being misused, meaning your supplier uses it to their own advantage (with them potentially becoming your competitor).
There are many benefits as well as risks to contract manufacturing. Companies are finding many reasons why they should outsource their production to other companies. However, production outside of the company has many risks attached.
The first step is to identify the core competencies of the company before deciding about contract manufacturers. A company's competencies are what make them competitive in the marketplace. If a company allows another company to take control of them, it loses that advantage.
Also, when deciding about using CMs, the company should weigh the benefits and associated risks. For small companies, contract manufacturing may not be a good business strategy, but for a large company that is trying to expand into new markets, contract manufacturing may be a good choice.
The History of Contract Manufacturing
Electronics Manufacturing Services (EMS) is a term used for companies that design, manufacture, test, distribute, and provide return/repair services for electronic components and assemblies for original equipment manufacturers (OEMs). The concept is also referred to as Electronics Contract Manufacturing (ECM).
The EMS industry took off after the late 1970s, when Solectron was established. At the time, most electronics manufacturing for large-scale product runs was handled by the in-house assembly. These new companies offered flexibility and eased human resources issues for smaller companies doing limited runs. The business model for the EMS industry is to specialize in large economies of scale in manufacturing, raw materials procurement and pooling together resources, industrial design expertise as well as added value services such as warranty and repairs. This frees up the customer who does not need to manufacture and keep huge inventories of products, so they can respond to sudden spikes in demand more quickly and efficiently.
The development of Surface Mount Technology (SMT) on printed circuit boards (PCB) allowed for the rapid assembly of electronics. The early 1990s saw OEMs rapidly installing SMT lines. EMS players like SCI and Avex struggled to exist, because OEMs would cancel contracts or change vendors constantly. By the mid-1990s, the advantages of the EMS concept became compelling and OEMs began outsourcing PCB assembly (PCBA) in large numbers. By the end of the 1990s and early 2000s, many OEMs sold their assembly plants to EMSs, who were aggressively vying for market share. A wave of consolidation followed as the more cash-flush EMS firms were able to buy up quickly both existing plants as well as smaller EMS companies.
Contract Manufacturing Market Overview
The global electronic contract manufacturing and design services market size is expected to reach $788.9 billion by 2027, with a CAGR (Compound Annual Growth Rate) of 8.5%. The electronics industry is highly competitive in nature owing to the increasing complexity of electronic products and rising pressure on OEMs for reducing costs. Moreover, decreased product life cycles have upped the demand for better contract manufacturing capabilities and related services. To achieve the same, OEMs are seeking support from contract manufacturers, which, in turn, is driving the market over the forecast period.
OEMs offer subcontracts to Electronics Manufacturing Service (EMS) companies and benefit from their expertise in design, manufacturing, and supply chain management. Furthermore, reduced initial investments and increased operational efficiencies allow OEMs to focus on their core competencies, which has led to a surging demand for electronic contract manufacturing and design services by OEMs. Moreover, the establishment of in-house manufacturing units is a key challenge faced by the majority of OEMs, which makes outsourcing a preferred option to keep pace with the increasing competition.
The market is projected to witness significant growth due to rising demand from end-use industries, including healthcare, aerospace and defense, IT and Telecom, and automotive. The surging need for optimizing resources and technological developments in manufacturing facilities have led to increased adoption of contracts with EMS companies among end-use industries.
The Asia Pacific region dominated the market in 2019 and is anticipated to account for the largest market share over the next couple of years, with China accounting for a share of more than 33% in 2019 in the region. In North America, the growth of the market is attributed to the increasing number of medical institutes and R&D centers working on advanced diagnostics products.
On the basis of end-use, the IT and TeleCom sector held the dominant revenue share in 2019. However, non-technical sectors such as healthcare, automotive, and aerospace and defense are expected to witness noteworthy growth over the next period owing to rising outsourcing trends in these industries.
Major Contract Manufacturing Companies/Organizations
Figure 3 – Tier list
The EMS industry is commonly divided into Tiers by their revenue:
Tier 0: >$500 billion
Tier 1: >$5 billion
Tier 2: $500 million – $5 billion
Tier 3: $100 – $500 million
Tier 4: $50 – $100 million
Tier 5: <$50 million
There is no hard rule on the actual revenue designation at this time. Other categories have been suggested by StepBeyond/EMSinsider and CIRCUITS ASSEMBLY: Micro Tier (<$50 million), Tier 4  for revenues of <$10 million, and "Tier Mega" referring to the Big 2, Foxconn (close to $6 trillion) and Flex (close to $700 billion).
During technology's late-1990s heyday, EMS players routinely acquired assets in high-cost locations and focused on printed circuit board fabrication, leaving system assembly to the OEMs. EMS companies largely disdained industries outside the world of information processing (computers) and communications. In recent years, EMS players have shifted production to low-cost geographies, embraced non-traditional industries including consumer electronics, industrial, medical and instrumentation, and added substantial vertical capabilities, stretching from design and ODM through to system assembly, testing, delivery and logistics, warranty and repair, network services, software and silicon design, and customer service.
Electronics manufacturing services are located throughout the world and provide numerous benefits. They vary in terms of production capabilities and comply with various quality standards and regulatory requirements.
Here are a few notable companies, split according to the type of production:
High Volume Low Mix (HVLM) production:

Foxconn
Pegatron
Wistron
Solectron
Compal Electronics
Quanta Computer
Flextronics
Funai
Hosiden
Orion Electric
Jabil
Inventec
Clevo
Celestica
Figure 4 – Top 5 HVLM Companies
Medium Volume Medium Mix (MVMM) production:
Figure 5 – Top 3 MVMM Companies
Medium Volume High Mix (MVHV):